If you run a business or work on the web then you probably already have a few domain names (for those who still aren't sure it's the web address you use to reach a site like danielmcclure.com). Whilst it is pretty simple to get set up and buy your first domain name, that is really only the beginning of your education about the weird world of domain name sales. In this post I'll share a few of the scams that I've encountered in my years online…
1. Just before your domain expiry date you receive a letter in the mail asking you to renew.
These letters seem to be more popular with localised domains in my case, but they come from a variety of companies and act as if they are managing your domain without ever actually saying it directly (to avoid legal action). They offer to renew your domain for you so you don't lose it to the world and usually charge between five and ten times the actual renewal fee if you went through your current registrar. These companies are typically relying on your lack of knowledge about where you even registered your domain and look to make a quick buck with a transfer at the end of your domain name to their services.
2. You get an email offering to sell you the .net/.org of your current domain name.
Whilst this can be a legitimate offer, it's always worth checking out the domain name using a WhoIs tools or your favourite registrar. In some cases you will find that they have only registered the domain name that very day to try to extort some money from you. In some weird cases the domain won't actually be registered to them even when they claim it is and they will only make the purchase when you agree to buy and will then resell it for a higher price. To protect your brand on any critical sites to your business it is usually worth buying all the main extensions (.com/.net/.org) and potentially your local extension such as .co.uk
3. You ask to buy a domain name from a person and they quote an unusually large sum.
Unfortunately due to supply and demand, the price is often justified by the market but if you are provided with lots of screenshots or links to scammy looking sites that value a unsed domain in the thousands then they are often attempting to convince you of the value in a worthless domain. It's worth noting that if you really want that specific domain, are happy to pay the price and the domain itself doesn't look like it has been used for SPAM then buying above market value may still be an acceptable sacrifice. Just make sure that they do in fact own the domain and if you're still worried make sure you use a respected escrow service.
4. Somebody offers to buy your domain but wants you to get a (paid) valuation first.
Whilst domain valuations tools can be useful in theory; if you are required to use a specific paid valuation service that you don't recognise then there is a good chance the person contacting you gets a commission for you using that service and has no intention of actually buying the domain name. Another note is that many of these tools will quote wild speculations that will rarely hold up in real life transactions.
How To Buy Domain Names Safely
With all the craziness that goes on around the web it's pretty much impossible to cover everything you need to do to stay safe from these kinds of scams online but the list below covers a few best practices.
Use a Trusted Domain Registrar – I personally use and would recommend Namecheap.
Set Up Automatic Reneweal – Never let your domains drop unless you want them to.
Create Private WHOIS Registration – Most companies offer a paid privacy protection service.
Only Use Trusted Companies – This should go without saying but always do your research.
Buy/Sell Through Trusted Marketplaces – They cost but can save you a lot in the long run.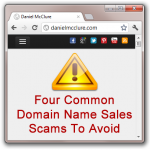 Found this article useful?
Know any other scams/tips?
I'd love to hear from you in the comments below!