Premise is a WordPress landing page plugin that lets you easily create sales pages and squeeze pages within WordPress whilst still using your usual theme across the rest of your website. There have been some great sales & squeeze page themes for WordPress (OptimizePress comes to mind) but I've always thought that you should be able to create squeeze pages without requiring a theme to handle it and that's exactly what Premise plugin for WordPress does.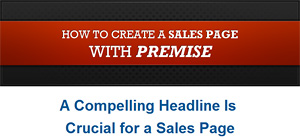 It's an established product and I've actually been meaning to try it for a while but it wasn't until they decided to run a promotion on it that I finally got around to trying it out. My first impressions are very good and I will be creating a full video review when I have used it a little more but I didn't want to make those of you who know they need something like this wait and miss the promotion.
Get Premise for nearly half price!
Use the promo code "DEAL" here.
Unfortunately this promotion ends today but if you act quickly you can still get in at the discounted price and try it out for a full 30 days completely risk free. If at any time during that time you decide the plugin is not for you then you can request a full refund within the members area.
The company behind premise is called Copyblogger media and they are a big name in the WordPress marketing world so you can rest assured this will be worthwhile investment for your business and they will stand by any promises that they make.