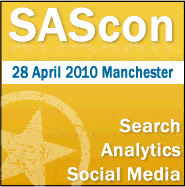 The first ever SAScon (Search, Analytics & Social Media Conference) was hosted this week in Manchester. Officially SAScon describes itself as the "UK's leading Search Marketing conference" and offered a variety of panels throughout the day including "many of the world's experts in search engine optimization (SEO), analytics and social media marketing".
This was a premium single day event with tickets ranging from £125 (freelancer rate) through to £250+ for everyone else. As both a digital marketing student and freelance web developer this seemed like the perfect opportunity to get my feet wet in the world of UK industry events. The extent of my offline networking to date has been through word-of-mouth referrals and small informal meetings as I recently discussed at Tomorrow's Web.
Whilst there were a selection of search, analytics and social panels throughout the day the standout sessions for myself were:
Black Hat/White Hat – Does it Matter Anymore
This session certainly brought out some interesting characters and colourful discussions surrounding the conflict of interests between keeping on the good side of the search engines whilst also gaining real results for both yourself and your clients.

Advanced Link Building
The speakers on this panel each gave their own short (5-10 minutes?) presentation in which they shared some of the most "actionable" content of the entire day.
Whilst the aforementioned were my personal favourite for the day there was no shortage of great discussion going on. The only sessions I couldn't fully appreciate were the two product introductions during PPC innovation. Whilst the software that was discussed definitely seemed to be powerful I believe that demonstrations of the software itself or case studies would have been more beneficial than a presentation on it's capabilities. However on reflection this is likely more about the fact that I'm not the target market for their software than anything relating to the presentation itself.
After a last minute screening of a recent research paper from SEMPO the day drew to a close and people filtered off. I did head over to the post-conference food & drinks and even though I couldn't stay too long, I still caught a chance to have a quick chat with some cool guys from Search Ignite and Social Magnet.
From a personal perspective; if I had any suggestions for next year they would be a little more panel time for the speakers involved and perhaps a little more practical (rather than industry) discussion on search and social. Overall the event was very positive and the quality of speakers was impressive. Rumours are suggesting that next year will be a 2 day event and the chances are that I'll be back coming back.
Cool SAScon Links