Beach Break Live is a UK based student festival and as previously mentioned on my blog I have started at university. This is the first of the occasional posts I mentioned that will relate to my student life.
I got a package from Beach Break Live today containing my posters for the event and I'm both both excited from a personal perspective and intrigued from a professional standpoint.
You can check out the acts here…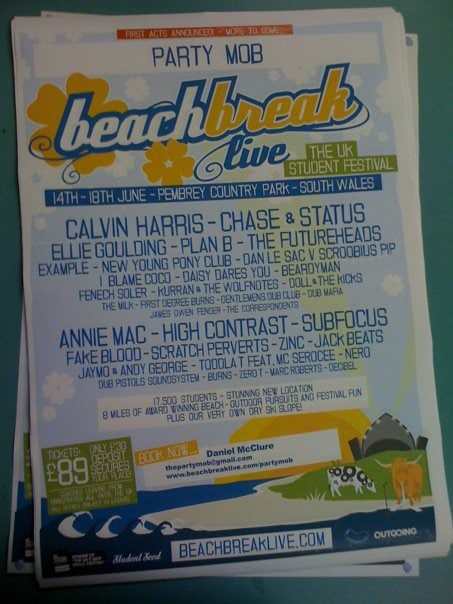 Definitely an interesting mix of acts and I'm looking forward to going to Beach Break Live, if for nothing more than the good vibes and beach parties. If you are studying in the UK then you can reserve Beach Break Live 2010 Tickets here.
Now of course, if you are one of the people that's been following my blog for a while it's likely you share my interest in marketing. If that's you then you might be interested to read on for my take on this poster.
I'm in two minds about the Beach Break Live posters and how they have been set up. Sales to this event are based on a commision, yet from a visual perspective it is very clear (to myself at least) that prominence is placed on the web address at the very bottom of the promotion (untracked) as opposed to the email address and extended URL (tracked) that are placed next to the "Book Now" section.
Is it just me or do you feel that the odds are slightly tipped in their favour when somebody discovers this poster and has not spoken to myself directly? Considering the event is majorly marketed via W.O.M. you'd think that they would give students every assistance possible yet this seems slightly off. I'd love to hear what other people think on this topic; would you run with the official Beach Break Live poster?