As somebody that relates to internal goals quite and deadlines in a positive manner, I decided that I should also set myself deadlines for my big personal goals. For a while I tracked these in my standard To Do List app but as I wasn't ticking them off daily (they are pretty big goals!) reviewing them felt like a negative experience so I decided to shift to an iPhone countdown app instead.
Keeping my big goals in an iPhone countdown app allowed me to create time bound big goals in a way that acted as more of a constant reminder of a time bound goal, rather than a task I was frequently failing at ticking off even if I was taking positive steps towards it.
What I was looking for in an iPhone Countdown App…
Notification Centre Widget
This enables daily review of the goals with a simple swipe of the screen.
Years, Months, Days, Hours, Seconds level of detail
Whilst days and years are the most useful measure in terms of long term progress, I feel that the seconds act as a reminder of the urgency for big goals. Any time you invest working towards a goal builds on itself, so quite literally every second counts.
Reminder Notifications 
Whilst we all start with the best intentions, such as reviewing your goals daily, sometimes it can be beneficial to have a little nudge for those days where you might get caught up in other things and forget.
In App List View
While you may have on or two massive goals, you'll likely want smaller milestones and other important dates noted for some perspective.
In App Detail View with associated image
Whilst this isn't essential, it is something that most apps seem to have and you can almost use each goal card as a min vision board, attaching images that represent your goals so you can really feel the pull as you take time to consciously review your goals.
With a rough outline of what I was looking for in an app I set out looking. Unfortunately countdown apps seem to be an area with excessive advertising bloat, confusing upgrade paths for freemium apps, infrequent updates and not the best detail without getting into the trenches and testing them  out.
iPhone Countdown Apps That I Reviewed…
After testing lots of apps, a couple shone through and none seemed to offer a daily reminder. The runner up and app that I wanted to like the most was "Count Days – Countdown days until and days after" as it had a great design that felt like a modern iOS app. It had the granularity I was looking for and allowed associated images. However I was disappointed to note that even though the developer had planned to include a notification centre widget, it was not available yet. Which left…
The Best iPhone Countdown App for Big Goals
The appropriately named "Countdown‼ (Event Reminders and Timer)" turned out to be the best app for what I was looking for. This is one of the apps that didn't feel great upon entering with ads, a UI that felt off somehow, however it came through in all the ways that mattered and you can remove the ads with a paid upgrade.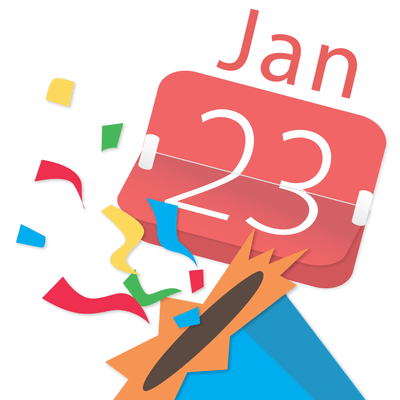 With the Countdown!! app you can create multiple countdowns, select a date and time, add the label (or goal) of your choosing, link photos or even a slideshow with an associated song, select the units displayed for the countdown including; Years, Months, Weeks, Days, Hours, Minutes, Seconds, and even heartbeats personalised to your specific rate!
You can even make the app your own by personalising the fonts and colours used in your goal details, and these customisations roll over to the built in notification centre widget. An additional feature they include is to receive a day count as a badge notification so you have a constant reminder on your home screen too.
Whilst my first impressions weren't as good, this is definitely the most full featured countdown app I came across and it ultimately exceeded my expectations. If they made the UI feel a little more modern native (and I feel that I'm just being picky now) then this would probably be the perfect countdown app for big goals!
If you're using this strategy or something similar, or if you decide to adopt it then I'd love to hear about it. Feel free to comment below or tweet me @danielmcclure